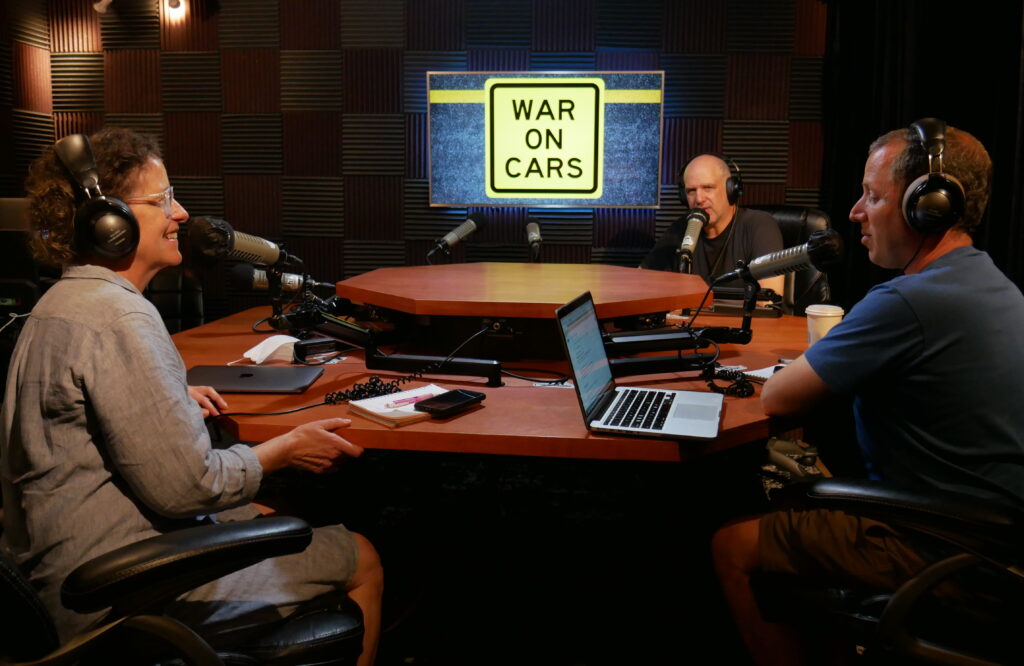 We're vaxxed and we're back. In this very special reunion episode, Sarah, Doug and Aaron return to the studio for the first time in fifteen months. Fifteen months! The COVID-19 pandemic has been a wild, earth-shattering, world-historic event with far-reaching implications for The War on Cars and pretty much everything else. We revisit some of our predictions from the beginning of the lockdown, take stock of what has changed and what has not, and chatter nervously about the lack of ventilation in the studio. Plus: We review Ford's new, multi-ton. all-electric, pickup truck, the F-150 Lightning. Spoiler: It's bad. 
You can find the full transcript of this episode here.
***This episode was sponsored in part by our friends at Cleverhood. For 20% off of stylish, functional rain gear designed specifically for walking and biking enter coupon code WARONCARS at checkout.*** 
Support The War on Cars on Patreon and get cool stickers, access to exclusive bonus content and more.
SHOW NOTES:
Episode 39: Riding Out the Pandemic, March 20, 2020. (The War on Cars)
Episode 40: Field Dispatches from Four Continents, March 29, 2020. (The War on Cars)
Ad for the All-Electric F-150 Lightning: Turning Electric Into Lightning. (YouTube)
The Lightning weighs 6,500 pounds! 35 percent more than the gas-powered model. (Slate)

It's got lots of torque and its massive battery can power your home for three days while your neighbors deal with rolling blackouts on the rickety public grid. (The Drive) 
Get official War on Cars merch at our store.
Check out The War on Cars library at Bookshop.org.
This episode was edited by Ali Lemer and engineered by Josh Wilcox at the Brooklyn Podcasting Studio. Our music is by Nathaniel Goodyear. Our logo is by Dani Finkel of Crucial D.
Find us on Twitter: @TheWarOnCars, Sarah Goodyear @buttermilk1, Aaron Naparstek @Naparstek, Doug Gordon @BrooklynSpoke. 
Questions, comments or suggestions? Email us: [email protected]