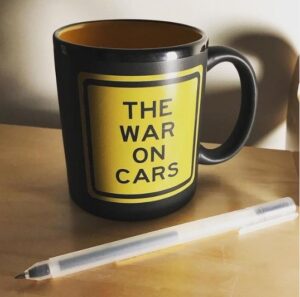 Coffee Mug
As Union cavalryman Ebenezer Nelson Gilpin said back in 1865: "Nobody can soldier without coffee." Our War on Cars mug will ensure that you stay caffeinated on your morning commute, at local planning meetings, or wherever you do battle with car culture. Matte black exterior and yellow on the inside, this warm, sturdy, ceramic mug is dishwasher safe and holds 11 ounces of your preferred bicycle fuel.
Shipping only to the U.S. for now!
$17.50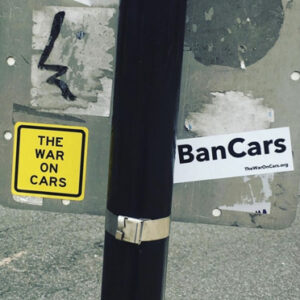 Sticker 10-Pack
Show your colors and spread the word with a batch of ten stickers from The War on Cars. We'll send you five yellow The War on Cars stickers and five white #BanCars stickers.
Shipping only to the U.S. and Canada.
10 for $20.00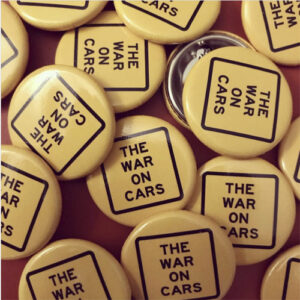 Button
Decorate yourself for distinguished service in The War on Cars. Buttons are one-inch in diameter.
Shipping only to the U.S. and Canada.
$2.50
Thank you for shopping at The War on Cars store. Expect orders for mugs, stickers and buttons to take anywhere from 3 to 7 days to get to you. We're aiming to send items out as quickly as we can. Note: If you order multiple items, PayPal will charge a shipping fee for each individual item. We are trying to figure out how to fix this problem. Until then, we will refund you any excess shipping charges! Feel free to get in touch with any questions, problems or issues related to the store: thewaroncars@gmail.com.