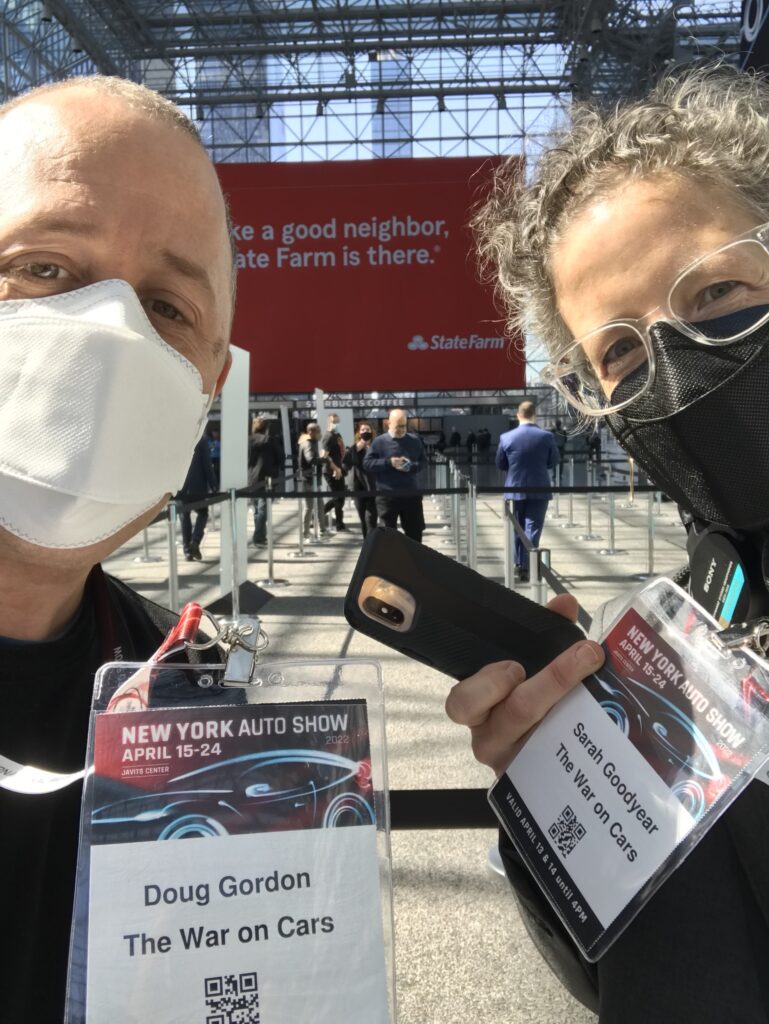 The New York International Auto Show was back and bigger than ever… and so were the cars. Our intrepid correspondents Sarah and Doug braved the crowds and sensory overload to hear straight from auto industry reps about the giant SUVs and muscle cars that will be prowling cities and suburban parking lots in the coming years. From the "menacing" and "in your face" Ford Bronco Raptor to the 800-horsepower Dodge Charger, what do the people who sell these vehicles to the public have to say when confronted with questions about safety? Plus, with e-bikes and scooters ascendant, will they one day take the auto out of the Auto Show?
You can find the full transcript of this episode here.
This episode was sponsored by our friends at Cleverhood rain gear and Radpower Bikes.
Become a Patreon supporter of The War on Cars for fun rewards and exclusive ad-free bonus content.
Aaron infiltrated the 2019 New York International Auto Show in Episode 17.
How big is the 2022 Ford Bronco Raptor? "The Raptor is a lane-filling 9.8 inches wider than the base Bronco," according to Kelly Bluebook. Plus, it's so tall that even the fenders "will be shadiing cars in the lanes beside you."
A Dodge Charger driver in Las Vegas killed nine people ranging in age from 5 to 59. Seven were from the same family. The driver was said to have been going more than 100 mph when he ran a red light…
…and that's just one of many horribly violent crashes involving Dodge Chargers and Challengers whose drivers, perhaps taking the brand's marketing to heart, apparently think they "rule the road."
Meanwhile, e-bikes were kind of a big deal at this year's Auto Show. (Canary Media)
Pick up official War on Cars merch at our store.
Follow and review us on Apple Podcasts. It helps people find us!
This episode was recorded by Josh Wilcox at the Brooklyn Podcasting Studio and edited by Ali Lemer. Our theme music is by Nathaniel Goodyear. Our logo was designed by Dani Finkel of Crucial D Designs.