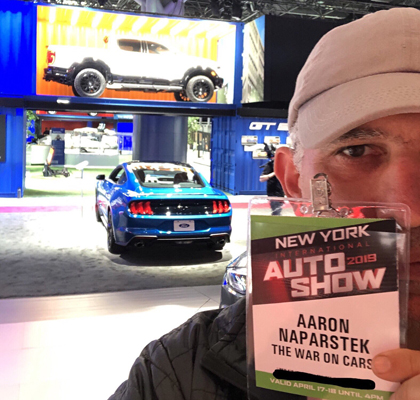 Once a year, the world descends on Manhattan for the New York International Auto Show, an extravagant, multimillion-dollar celebration of all things car. From the most "sinister" Dodge Challenger to a Kia that can sense a driver's mood and adjust the vehicle's interior accordingly, the Auto Show isn't just a showcase for new products, it's a vision of the future of the North American city—a future that is built around the car. What will it take for foot soldiers in the War on Cars to go up against this well-funded juggernaut? Is it possible that a band of guerrilla activists, spurred by tragedy and armed with nothing more than red cups and tomatoes, can take on an empire?
Support The War on Cars on Patreon and receive stickers, t-shirts, exclusive access to special audio content and more.
Buy an official War on Cars T-shirt at Cotton Bureau.
Rate and review The War On Cars on iTunes.
SHOW NOTES:
Aaron infiltrates the International Auto Show and reconnoiters the Kia HabaNiro, Subaru's greenwashing, the new Rolls Royce SUV, and one particular set of vehicles that are actually pretty well designed for the urban environment.
Cyclist Killed Was a Longtime Bike Advocate Who "Lived and Breathed Making the Streets Safer" (WAMU 88.5)
D.C. Bike Advocate's Death Highlights Slow Progress Toward Safe Streets (Streetsblog USA)
Simple but Empowering: Cyclists Place Red Cups Along Bike Lanes to Show How Vulnerable They Are" (Bicycling)
Bike Lanes Need Barriers, Not Just Paint (Curbed)
Paint Is Not Enough: Red Cup Project Shines Light On Bike Lane Dangers (WBZ4 CBS Boston)
Twitter: @TheWarOnCars, Aaron Naparstek @Naparstek, Doug Gordon @BrooklynSpoke, Sarah Goodyear @buttermilk1.
This episode was produced by Ben Ellman.
Questions? Suggestions? Email us: [email protected].