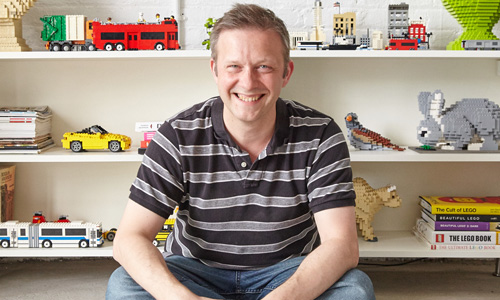 ***This is a quick preview of a bonus episode. Become a Patreon Supporter of The War on Cars for access to the complete episode and all our exclusive content. Plus, we'll send you stickers!***
Sean Kenney, one of the voices in Episode 65, "Where are the Bike Lanes in Lego City?" is an artist and self-described "professional kid" who designs and creates amazing sculpture and other works of art using nothing but LEGO pieces. Sean provided the original episode with a highly informed perspective on Lego's history and design choices over the years.
In this extended conversation just for Patreon supporters of The War on Cars, Sean explains why he moved his family — as well as his enormous LEGO collection — from Brooklyn to Amsterdam, a city that he described as one that was "fully cooked" before the arrival of the automobile. He also provides further theories as to the longtime lack of bicycles Legoland, dives deeper into the evolution of LEGO cars and trucks, explains the unique design challenges that make adding bike lanes to LEGO road plates difficult and waxes poetic about building his idea of a perfect city.
SHOW NOTES:
Visit Sean Kenney's official website.
Purchase a copy of Sean's book, Cool City, and other titles by podcast guests at the official War on Cars Bookshop.org page or at your local bookstore.
Follow Sean Kenney on Instagram.