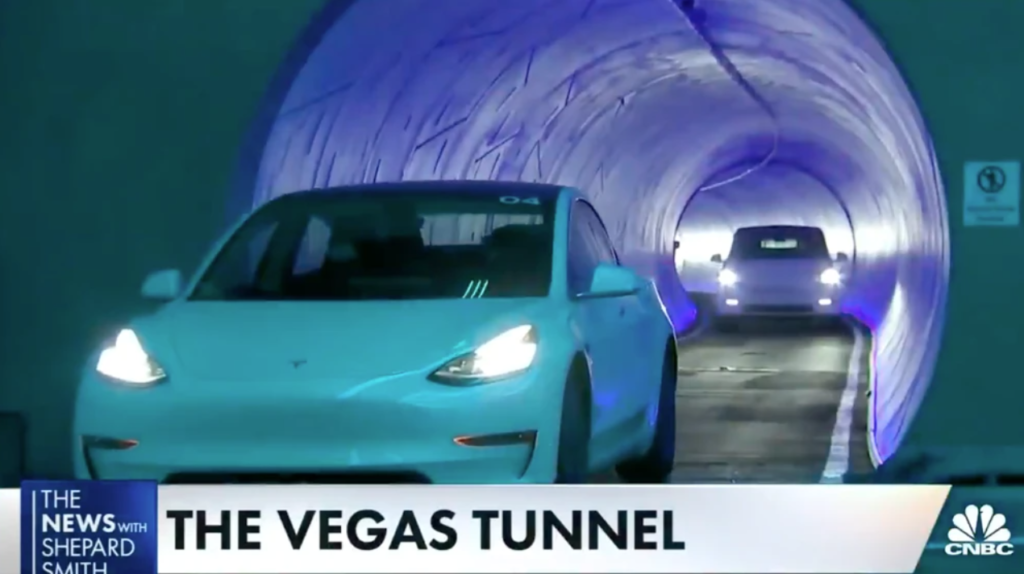 Two years after it was first announced, a tunnel project in Las Vegas by Elon Musk's Boring Company was finally revealed to the world. Originally conceived as a way to whisk Las Vegas Convention Center visitors from one side of the sprawling complex to the other in futuristic-looking pods, the $53-million project turned out to just be… just a bunch of Teslas in tunnels. Oh, and there were flashing lights. Nevertheless, in a recent CNBC segment, anchor Shep Smith and reporter Contessa Brewer were tasked with making "a highway underground" sound innovative, thrilling and worth the hype. So how'd they do? Not great. Aaron Gordon — senior reporter at Vice's Motherboard — called the segment, "the most embarrassing news clip in American transportation history." Aaron, not to be confused with the podcast's other Aaron and other Gordon, joins all three The War On Cars hosts to discuss the disappointing project, the embarrassing coverage and whether any of it will make a difference in changing people's perspective on the alleged genius of Elon Musk.
This episode was sponsored in part by our friends at Cleverhood. To celebrate the arrival of spring, listers of The War on Cars can receive 25% off of stylish, functional rain gear designed specifically for walking and biking. Enter coupon code WARONCARS at checkout.
Support The War on Cars on Patreon and get cool stickers, access to exclusive bonus episodes and more.
You can find the full transcript of this episode here.
SHOW NOTES: 
Watch CNBC's Shep Smith and Contessa Brewer go giddy for "a highway underground."
Aaron Gordon saw the segment and declared, "This Is the Most Embarrassing News Clip In American Transportation History."
More from Aaron Gordon at Motherboard, Vice's tech news site.
Subscribe to Aaron Gordon's newsletter, Urbababble.
Pick up a copy of On Bicycles: A 200-Year History of Cycling in New York City by Evan Friss and other titles at our Bookshop.org page.
Get the new "Aaron Napper Sack" tote bag and other great merchandise including coffee mugs, stickers and apparel at our store. 
Follow us on Apple Podcasts and leave a review.
This episode was edited by Doug Gordon. Our music is by Nathaniel Goodyear. Our logo is by Dani Finkel of Crucial D.
Find us on Twitter: @TheWarOnCars, Doug Gordon @BrooklynSpoke, Sarah Goodyear @buttermilk1, Aaron Naparstek @Naparstek.
Email us: [email protected]