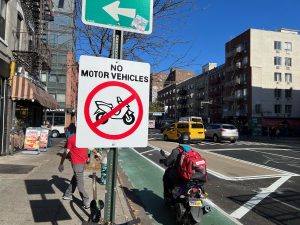 The rising problem of mopeds and motorcycles in New York City bike lanes is impossible to ignore but the solutions are anything but simple.
Recently, journalist and friend of the podcast Aaron Gordon wrote an essay for his newsletter titled "Biking in New York City Has Gotten Worse," in which he laments the change that's happened in recent years of larger and faster motorized vehicles using the city's bike lanes. We're not talking pedal-assist e-bikes and cargo bikes or even the Arrow e-bikes that have long been preferred by New York's delivery workers. We're talking full-on mopeds and motorcycles—electric and gas-powered alike—many of which are unlicensed and, even if they did have the proper registration, generally do not belong in bike lanes.
In this coversation, we talk about how and why this problem has grown, largely due to the major food-delivery app companies which wash their hands of any responsibility for providing their workers, all of whom are categorized not as employees but as contractors, with fair wages, benefits, and even street-legal vehicles.
Can government force the app companies to step up? What should people who advocate for safe streets and bike infrastructure do? It's complicated.
***This is a preview of a Patreon bonus episode. To hear the full episode and for complete access to all our exclusive bonus content become a Patreon supporter of The War on Cars.***