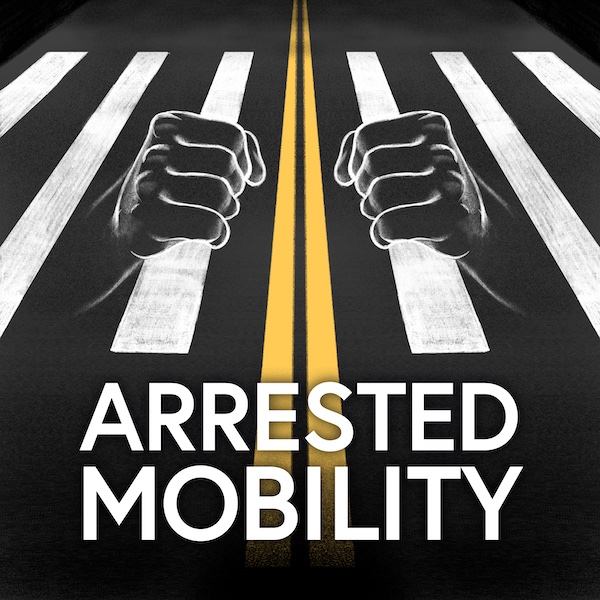 In Huntsville, Alabama, it's illegal to play ball on any street, alley, or sidewalk. In Lewiston, Maine, pedestrians must keep to the right half of the crosswalk while crossing the street. And in Sioux Falls, South Dakota, bicyclists are strictly prohibited from any kind of "fancy riding." If these laws sound vague, arbitrary, and difficult to enforce, well, that might just be the point. In a groundbreaking new report, urban planner Charles Brown painstakingly identifies the vast array of transportation-related laws that are used almost exclusively to limit the mobility and freedom of Black Americans while providing no real benefit to public safety. Brown gives this repressive policy regime a name. He calls it: Arrested Mobility.
You can find a full transcript of this episode here.
This episode is produced with support from Harvard University Graduate School of Design Executive Education and Cleverhood.
*** Support The War on Cars on Patreon and receive access to ad-free versions of all our episodes, special bonus content and stickers! ***
LINKS:
Follow Charles Brown on Twitter.
Read the report: Arrested Mobility: Barriers to Walking, Biking, and E-Scooter Use in Black Communities in the United States.
Subscribe and listen to the Arrested Mobility podcast
Equitable Cities is an urban planning, public policy, and research firm working at the intersection of transportation, health, and equity.
How Bike/Walk Laws 'Arrest' the Mobility of Black Americans (Streetsblog)
* * * * *
Pick up official podcast tees and other merch in our official store.
Buy books from podcast guests and find other great recommendations at our Bookshop.org page.
Join Jeff Speck, author of Walkable City, for a two-day course on the most effective arguments, tools and techniques for improving walking, biking and transit, June 15 and 16 on the campus of Harvard University in Cambridge, Massachusetts.
Attend Micromobility Europe in Amsterdam in June or Micromobility America in San Francisco in October and save 20% on tickets by using the links.
This episode was edited by Ali Lemer. It was recorded at the Brooklyn Podcasting Studio by Josh Wilcox. Our theme music is by Nathaniel Goodyear.
Patreon supporters who want to listen to this ad-free version of the episode on Apple Podcasts or another podcast app should check out these instructions on how to find and use your private RSS audio link from Patreon. You can also use the Patreon app or listen in your browser.