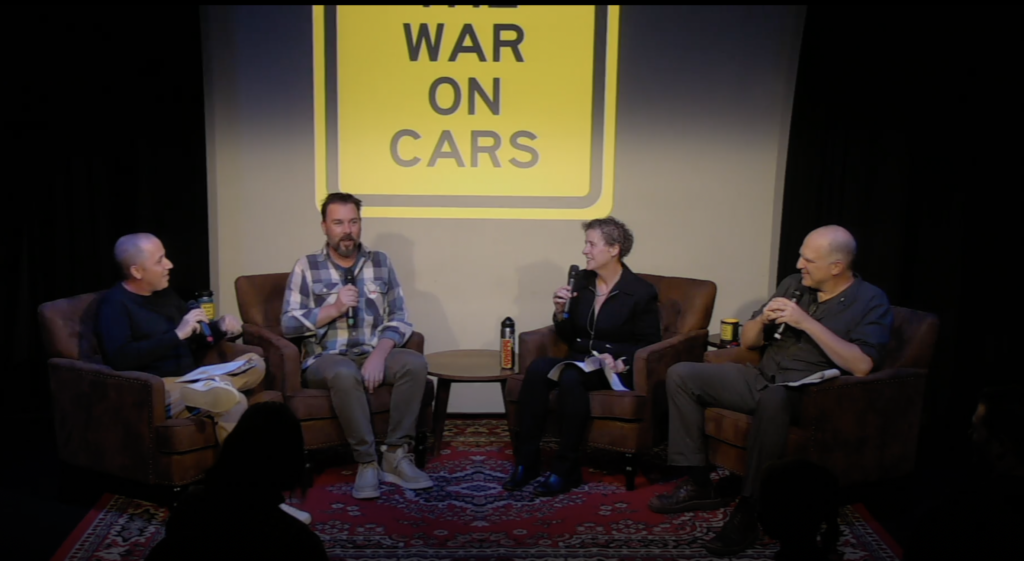 On Tuesday, November 2nd, 2021, The War on Cars recorded a live show at Caveat on the Lower East Side of Manhattan. Our special guest for the evening was Choire Sicha, an editor at large at New York Magazine, who joined us to talk about YIMBYism, "bike fascism" and life in the suburbs. Plus, why does Eric Adams, the newly elected mayor of New York City, need to fix his bike's front fork?
This episode is sponsored by Rad Power Bikes and Cleverhood. For 20% off the purchase of Cleverhood rain gear, use code HOLIDAYRAIN at checkout through December 31st.
Become a Patreon supporter of The War on Cars and get access to the full-length video of our live show along with all of our exclusive content.
Get official War on Cars merch at our store.
SHOW NOTES:
Yes, Build the Windowless, Bathroomless Dorm in My Backyard (Choire Sicha at Curbed)
How to Ride the Bus (Choire Sicha at Curbed)
Eric Adams' Fork is Backwards (reddit.com/r/NYCbike/)
Curtis Sliwa Hit By Cab, Does Radio Show Before Going to Hospital (NBC 4)
Curtis Sliwa vows to end the "war on vehicles." (New York Post)
This episode was edited by Ali Lemer. It was recorded live at Caveat. Theme music is by Nathaniel Goodyear. Logo is by Dani Finkel of Crucial D.