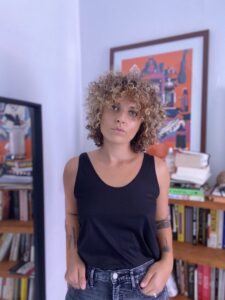 Alicia Kennedy is a food writer whose weekly newsletter covers the way food culture intersects with politics, media, labor rights and climate change. On the surface it might not seem like it has much to do with the war on cars. But it does. Because what Alicia is doing in her work is really similar to what we do: she tries to make the invisible visible. She shines a light on how huge political and commercial forces are constantly manipulating our emotions about food for their own profit, with reckless disregard for the natural world and human health. It's pretty much the same thing we see every day in transportation and urban planning. Sarah talked with Alicia about what electric cars have in common with lab meat, and how to deal with people thinking you're a joyless Puritan just because you don't want our society to go up in flames.
You can find the full transcript of this episode here.
***This episode is sponsored in part by our friends at Cleverhood. For 20% off stylish, functional rain gear designed specifically for walking and biking, enter coupon code BANCARS at checkout now through November 1.***
Support The War on Cars on Patreon and get cool stickers, access to exclusive bonus content and more.
SHOW NOTES:
Learn more about Alicia Kennedy and subscribe to her newsletter.
Buy advance or livestream tickets for our November 2 live show at Caveat in NYC.
Get official War on Cars merch at our store.
Follow, rate and review us on iTunes!
This episode was produced and edited by Sarah Goodyear. Our theme music is by Nathaniel Goodyear. Our logo is by Dani Finkel of Crucial D.
Find us on Twitter: @TheWaronCars, Sarah Goodyear @buttermilk1, Aaron Naparstek @Naparstek, Doug Gordon @BrooklynSpoke.
Questions, comments or suggestions? Email us at [email protected].