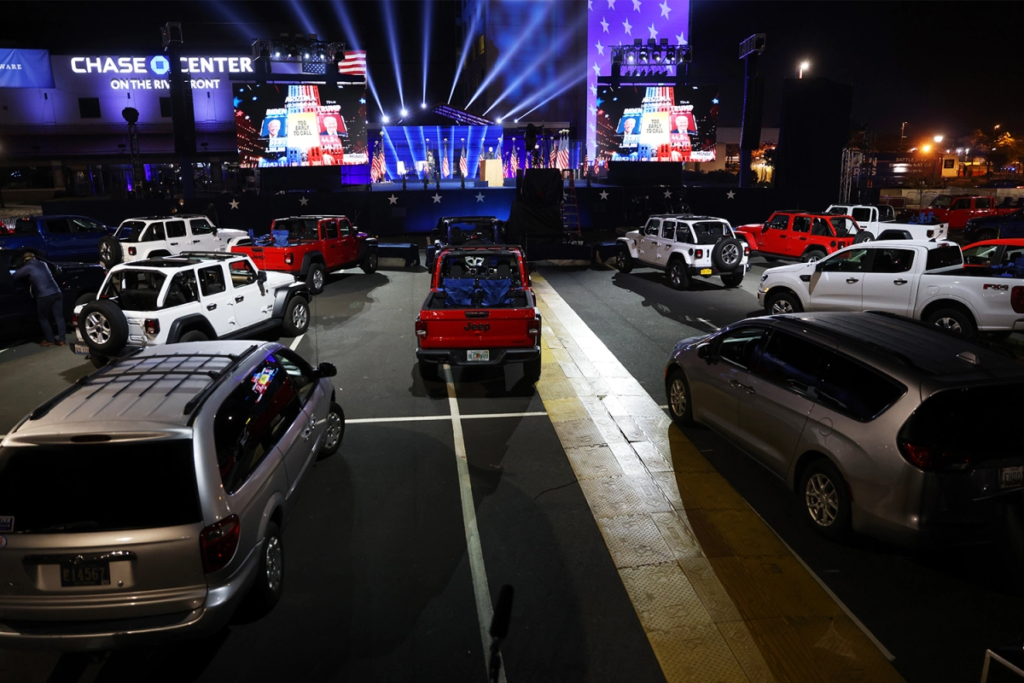 Automobiles played an oversized role in the news this year, from the country's response to the pandemic to the strange twists and turns of the presidential election. In fact, some might say 2020 was the year of the car. Beyond the growth of drive-thru COVID testing and importance of curbside voting, there was the president's weird virus-infected limousine ride around Walter Reed, flag-flying "Trump Trains" shutting down highways and the strange spectacle of watching President-elect Joe Biden deliver his victory speech before supporters in parked cars who expressed their excitement and enthusiasm by honking. What does it mean for the future of democracy that most of our interactions with our fellow citizens now happen from behind a windshield? Are we destined to duke it out, road-rage style, until society collapses? Or is there an off-ramp from all this madness? Plus, is there really a parking angle to the Four Seasons Total Landscaping story? You bet there is. Aaron, Sarah and Doug are together again to discuss it all.
You can find the full transcript of this episode here.
***This episode was sponsored in part by our friends at Cleverhood. Receive 20% off your purchase of stylish, functional rain gear designed specifically for bicycling and walking. Enter coupon code WARONCARS when you check out.***
Support The War on Cars on Patreon starting at just $2/month to get stickers and unlock exclusive bonus episodes.
Buy a "buttery soft" War on Cars t-shirt at Cotton Bureau.
Purchase books by authors who've appeared on the podcast at Bookshop.org.
Help people find us by reviewing the podcast on iTunes.
SHOW NOTES: 
How "Trump Trains" became a political weapon. (The Atlantic)
What was with the red, white and blue Jeeps at Biden's victory speech? (Jalopnik)
The owner of the adult novelty store next to Four Seasons Total Landscaping was annoyed that his customers couldn't find parking. (Slate)
"Petro-masculinity" was on display at Trump highway rallies. (Gizmodo)
Drive-thru voting survives challenge in Harris County, Texas. (Texas Tribune)
Trump rally gets ugly in Marin City, California. (KTVU)
Long lines for COVID testing at Dodger Stadium. (ABC 7)
Find us on Twitter: @TheWarOnCars, Aaron Naparstek @Naparstek, Doug Gordon @BrooklynSpoke, Sarah Goodyear @buttermilk1. 
Questions, comments or suggestions? Email us: [email protected]