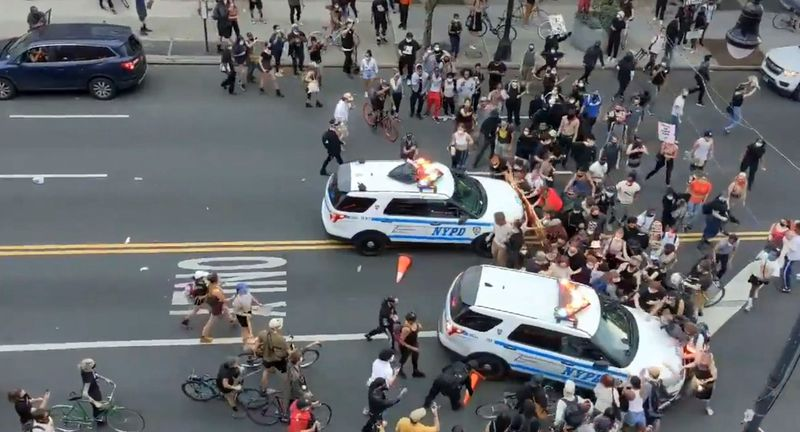 Using a vehicle as an instrument of terror is nothing new. Over the last decade, extremists proclaiming affiliation with ISIS and other terrorist groups have used trucks and cars to murder pedestrians in London, Barcelona, Nice, Berlin, New York…the list goes on. Recently, however, the United States has seen a new and frightening development with vehicular assaults. These attacks are not random. The targets are protesters using highways and streets to exercise their First Amendment rights, to demand justice, and to call for the reform of policing and other systemically racist institutions. Some of the attacks have been carried out by people affiliated with right-wing hate groups, some by people with no known affiliation, and still others have involved the police themselves. In this episode, Sarah talks with Ari Weil, a University of Chicago Ph.D. student researching vehicular attacks, about this terrifying trend. We also hear from Robert Foster, who was at a protest in Austin, Texas, where a confrontation between a marcher and a driver turned fatal.
You can find the full transcript of this episode here.
Support The War on Cars on Patreon.
Rate and review the podcast on iTunes.
Buy a War on Cars t-shirt at Cotton Bureau.
Purchase books by authors featured on The War on Cars via Bookshop.org.
SHOW NOTES: 
Follow Ari on Twitter @AriWeil
Read more about Ari Weil's research into right-wing vehicular attacks. (NBC News) 
Ari Weil's interview with Vox.com about the "far right ecosystem online" that's encouraging vehicular attacks and congratulating the people who carry them out. 
Vehicular Attacks Rise as Extremists Target Protestors. (NPR)
Police officers in SUVs rammed protestors and New York City Mayor Bill de Blasio initially defended the cops. (New York Times)
The states that introduced bills in 2017 to protect drivers who run over protestors. (CNN)
This episode was produced by Sarah Goodyear and edited by Ali Lemer. Our music is by Nathaniel Goodyear. Our logo is by Dani Finkel of Crucial D Design.
Find us on Twitter: @TheWarOnCars, Aaron Naparstek @Naparstek, Doug Gordon @BrooklynSpoke, Sarah Goodyear @buttermilk1. 
Questions, comments or suggestions? Email us: [email protected]