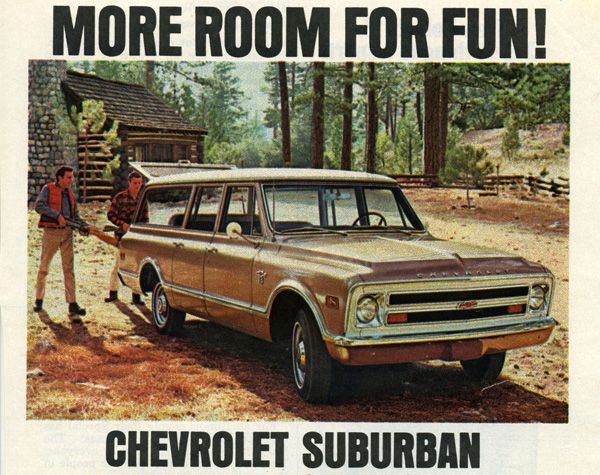 The Chevrolet Suburban is one of General Motors' most enduring triumphs — the longest-running nameplate in automotive history, to use the industry jargon, and the original SUV. In production since 1935, it's grown from an all-American family vehicle, perfect for loading up the kids and heading out into the country, into an 18-foot-long status symbol for VIPs — including titans of finance, A-list celebrities, politicians and the occasional drug lord. It's even the first vehicle to earn a star on the Hollywood Walk of Fame. While the Suburban used to be about suburbia, it isn't anymore. In this episode, we talk with Angie Schmitt, a journalist working on a book about the pedestrian safety crisis in the United States, about how the Suburban's rise foretold the modern SUV boom, and just how dangerous these land sharks can be.
You can find the full transcript of this episode here.
SHOW NOTES:
Support The War on Cars with a contribution on Patreon.
Rate and review the war effort on iTunes.
Buy a War on Cars T-shirt at Cotton Bureau.
And check out the new podcast from our friends over at TransitCenter. It's called High Frequency. 
SHOW NOTES:
Angie Schmitt is on Twitter @schmangee.
Keith Bradsher's book about the deadly rise of the SUV: High and Mighty.
The dangerous blindspots in front of big SUVs. (The Verge)
A comprehensive roundup of the Suburban's appearances in film and TV. (Internet Movie Cars Database)
The Suburban gets a star on the Hollywood Walk of Fame. (NBC)
Pictures of the Suburban in its earlier incarnations. (Popular Mechanics)
An homage to the power of the Suburban brand. (Up to Speed)
A social history of the Chevy Suburban. (Car and Driver)
Some of the sounds in this show were included courtesy of Creative Commons licenses, from Kinetic Turtle and nemoDaedulus.
Join The War on Cars crew for two live events this spring!

– A live recording in Denver for Bicycle Colorado's Moving People Forward conference on February 10.  
– And another in Washington, D.C., at the League of American Bicyclists' National Bike Summit, March 16. 
This episode was edited by Matt Cutler and recorded at the Brooklyn Podcasting Studio.

Find us on Twitter: @TheWarOnCars, Aaron Naparstek @Naparstek, Doug Gordon @BrooklynSpoke, Sarah Goodyear @buttermilk1.
Drop us a line: [email protected]