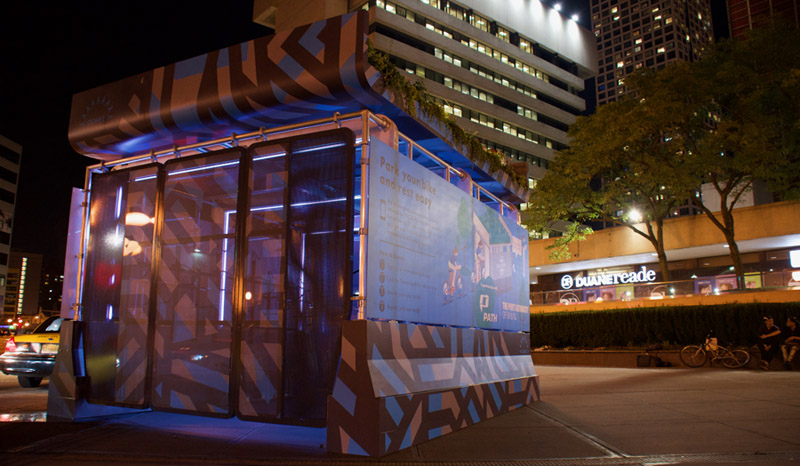 Making change happen in a big, complex, bureaucratic city is really hard. One guy who knows all about that is Shabazz Stuart, the Chief Executive Officer of Oonee, a Brooklyn-based startup company that is developing secure bike-parking kiosks at major transit hubs in and around New York City. For this episode, Shabazz joins The War on Cars crew in the studio and Aaron traverses two rivers and travels all the way to New Jersey — New Jersey! — to lay eyes on the new secret weapon in The War on Cars. Plus, we're doing some live events. Check out the Show Notes for more details. 
You can find the full transcript of this episode here.
Support The War on Cars on Patreon.
Rate and review the war effort on iTunes.
Buy a War on Cars t-shirt at Cotton Bureau.
And check out the new podcast from our friends over at TransitCenter. It's called High Frequency. 
SHOW NOTES: 
You can learn more about Oonee on their company website. 
Follow Oonee on Instagram and Twitter and definitely check out CEO Shabazz Stuart on Medium. 
Streetfilms covered the debut of Oonee's Brooklyn pod just before the holiday break in December.
The world's biggest bike parking garage is in Utrecht, the Netherlands and it really illustrates the huge potential. 
Join The War on Cars crew for two live events this spring!

We'll be in Denver for Bicycle Colorado's Moving People Forward conference on February 10.  
And we'll be in Washington, D.C., at the League of American Bicyclists' National Bike Summit, March 15 to 17.

Hope to see you at one of these. 
This episode was edited by Ali Lemer and recorded at the Brooklyn Podcasting Studio.

Find us on Twitter: @TheWarOnCars, Aaron Naparstek @Naparstek, Doug Gordon @BrooklynSpoke, Sarah Goodyear @buttermilk1.
Drop us a line: [email protected]