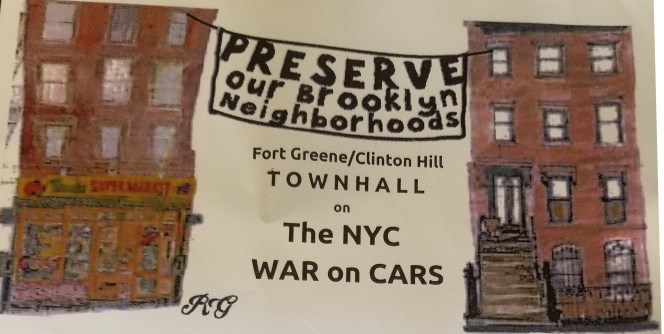 In the battle to make cities better for walking, biking and transit, there's no more important front line than local community meetings. So when a flyer advertising a town-hall forum about the New York City Department of Transportation's alleged "war on cars" began appearing in Brooklyn neighborhoods, we knew we had to attend. On this episode, we discuss what happens when regular citizens gather to discuss losing precious parking spaces to benefit the greater good. What are some tactics advocates can use to bring people around to their point of view? Given the typical format of these forums, is finding common ground even possible? Is there a better way to conduct public meetings or is screaming at each other in a church social hall a necessary evil? [NOTE: Due to some late-breaking developments, this is part one of a two-part series on public meetings.]
Support the podcast on Patreon.
Rate and review the war effort on iTunes.
Buy a War on Cars t-shirt at Cotton Bureau.
SHOW NOTES:
Is a Better Public Meeting Possible? Casey Berkovitz, The Century Foundation.
Progressive Boomers are Making it Impossible for Cities to Fix the Housing Crisis. Michael Hobbes, The Huffington Post.
Background on the reaction to the NYC DOT residential loading zone program. NY Daily News.
A play-by-play of the Fort Greene "War on Cars" meeting. Via Julianne Cuba, Streetsblog.
This episode was edited by Jamie Kaiser.
Find us on Twitter @TheWarOnCars, Aaron Naparstek @Naparstek, Sarah Goodyear @buttermilk1 and Doug Gordon @BrooklynSpoke. Email us: [email protected]