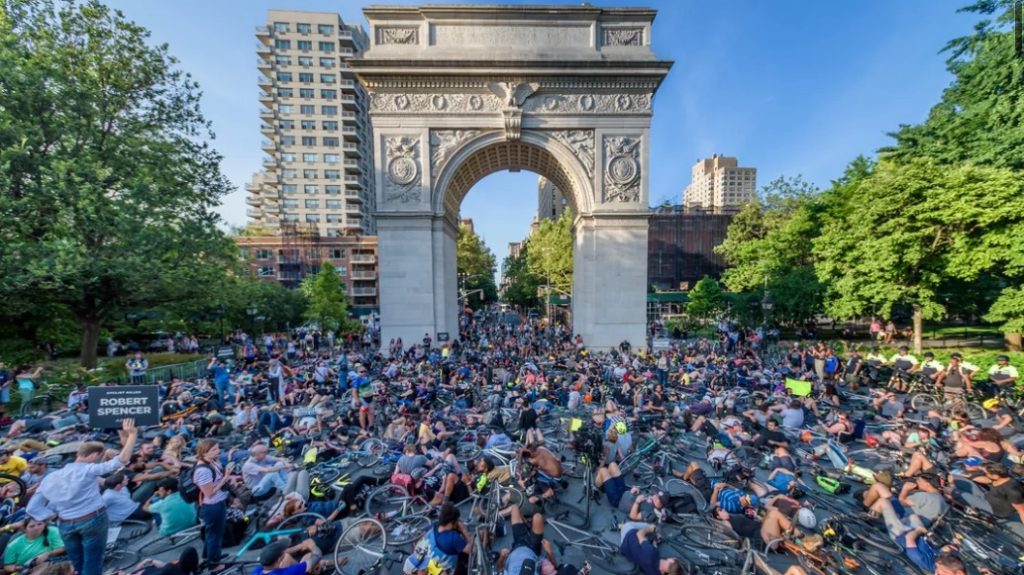 Twenty-one people riding bicycles have been killed this year on the streets of New York City. That's more than double the number of bike fatalities in all of 2018. In early July, after a terrible week in which three people on bicycles were killed in quick succession, more than a thousand demonstrators showed up in Lower Manhattan's Washington Square Park for a "Die-In" to demand that officials take more aggressive action to make streets safe. In this episode, we hear from Die-In participants and Doug, Sarah and Aaron talk about advocacy, activism and change-making. Is it better to be polite and work within the system or disobedient and disruptive? Who in city government should be the target of these urgent calls to action, the politicians or the police? What can we learn from the work of other grassroots social and political movements throughout history? And do NYPD bicycle cops ever actually ride their bikes or do they only use them as crowd control barricades? 

Support The War on Cars on Patreon and receive stickers, T-shirts, exclusive access to special audio content and more.
Buy an official War on Cars T-shirt at Cotton Bureau.
Rate and review The War On Cars on iTunes.
SHOW NOTES:
Washington Square Park Die-In Coverage (Streetsblog)
Hundreds of cyclists stage 'die-in' at Washington Square Park following recent biker fatalities (New York Daily News) See the guy holding the "De Blasio to Cyclists: Drop Dead" sign? That's Doug! 
Cyclist deaths in NYC: A month-by-month breakdown (AM New York)
Robyn Hightman: The Miraculous and Tragic Story of a Life Transformed by Cycling. A phenomenal story by Peter Flax in Bicycling Magazine.

NYPD Cracks Down On Cyclists, Not Drivers, Where Truck Driver Killed Bike Messenger (Gothamist)
Insane video of the aftermath of an NYPD officer in a police SUV knocking a man off of his bicycle for "his own safety."

Ernest Askew wouldn't give up his bike (AM New York). 
State Senator Sees 'Built-in Racism And Classism' Behind A Cyclist's Death In Brownsville (Gothamist)
Here is Devra Freelander's web site and a great review of her work and her legacy in Surface Magazine. 
Cement truck drivers from the same company involved in the killing of Devra Freelander blame the victim instead of taking any semblance of responsibility (AM New York, Streetsblog, Bklyner)
This episode was edited by Jaime Kaiser. 
Find us on Twitter @TheWarOnCars, Aaron Naparstek @Naparstek, Doug Gordon @BrooklynSpoke, Sarah Goodyear @buttermilk1.
The War on Cars is on Instagram and Facebook too.
Email us! [email protected]